Skip to Main Content
It looks like you're using Internet Explorer 11 or older. This website works best with modern browsers such as the latest versions of Chrome, Firefox, Safari, and Edge. If you continue with this browser, you may see unexpected results.
Staying Informed - Keep Up To Date on the Storm
Staying up to date with weather reports and predictions can make the decision to stay or evacuate easier. Knowing all the possible scenarios can help you better prepare you and your family. Local news in Escambia County are the best resources for local reports, and larger regional and national report agencies can help with predictions.
A weather radio or television can keep you connected to all of these services. Many of these stations also have apps for smart devices to keep you connected around the clock, before, during, and after a storm.
Suppies - Building a Disaster Supply Kit
Building your Disaster Supply Kit and keeping it stocked is one of the most crucial parts of Hurricane Preparedness. Days before the storm hits, stores will be packed and in low stock of critical goods like bottled water and batteries. Building your kit early and keeping it stocked and fresh will help relieve anxiety of running out of supplies in an already stressful time.
Here is a basic supply lists that should be found in every Disaster Supply Kit:
Water - one gallon of water per person per day for at least three days, for drinking and sanitation
Food - at least a three-day supply of non-perishable food
Battery-powered or hand crank radio and a NOAA Weather Radio with tone alert
Flashlight - one for each family member
First aid kit
Extra batteries
Whistle to signal for help
Dust mask to help filter contaminated air and plastic sheeting and duct tape to shelter-in-place
Moist towelettes, garbage bags and plastic ties for personal sanitation
Wrench or pliers to turn off utilities
Manual can opener for food
Local maps
Cell phone with chargers and a backup battery
Your Disaster Supply Kit may vary for your needs. Food for your pets and medications should be included as needed, and important documentation, such as copies of insurance policies, bank account records, and birth certificates should also be added in the event you need to evacuate.
Step-by-Step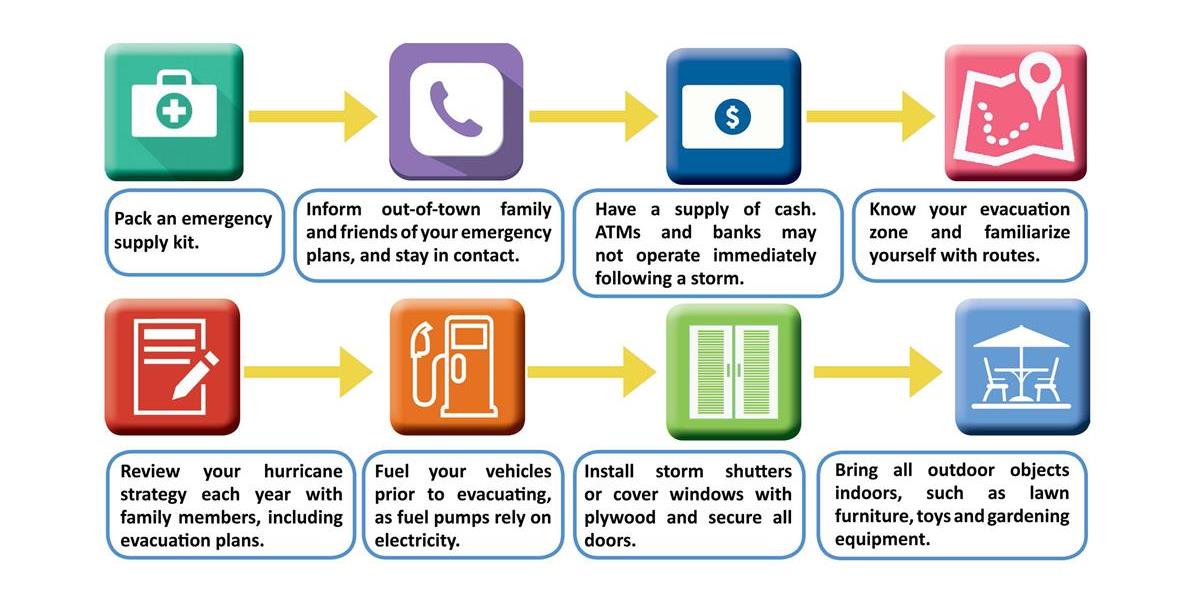 Keep it Stocked!
Prepping early and keeping your supplies stocked through the season is crucial. Regularly check expiration dates, damaged items, and keep your kit somewhere accessible and ready to go. https://www.nhc.noaa.gov/prepare/ready.php